Ignoring the arguments about whether Google is as good as they claim to be, one has to admit that they have a sense of humor. Take for instance their directions via google maps to get from New York, NY to Paris, France. I don't know why I'd never considered just swimming the 3,462 miles to save on that costly plane ticket.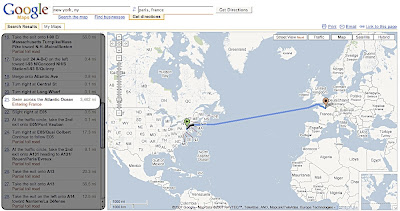 My brother showed me a couple of other cases of slightly evil and very evil being kind of funny. One is the now famous "Wooden Spoon Prank" check you tube for the dozens of people trying to imitate this.
The other is less known, but about a thousand times more evil. It is actually only borderline funny because it is so mean.
And of course all of this is courtesy of youTube, which is owned by Google… along with the other third of the internet.